West Vancouver Soccer Club.
The Club has a long tradition of excellence. Since it's beginnings in the 1920's, the Club has been involved in the promotion, organization, and development of soccer at the youth level in the Municipality of West Vancouver.

The ideal of the Club is to provide for participation by all who wish to play soccer at the level of their individual ability.

The official telephone number for the West Vancouver Soccer Club is (604) 922-4261, used for both voice messages and faxes. The Club uses as its clubhouse a room in the block Change Room facility facing Ambleside B, immediately east of Marine Drive and 13th Street. The Club publishes an information newsletter to registered members quarterly, entitled Sidelines.



| | |
| --- | --- |
| WVSC Communication Guidelines | |
▲Top
In order to provide support for our team coaches and managers and to improve communication between team officials and Club Directors and staff, we would like to provide you with some information and guidelines on WVSC communication. The following list of Directors and staff, along with their specific areas of responsibility, should be used to determine which Club official coaches and managers contact for information and assistance:


| | |
| --- | --- |
| Age Group Coordinators - | Distribution of Team Lists, Player Movement, Player Withdrawals, League Schedule and Rules, Cup Schedule and Rules, Club Policies, Uniforms |
| Bill Sparling - | Coaching Applications, Policies and Administration; Player Development and Academy Programs |
| Claudia Sparling - | Game and Practice Field Scheduling |
| Colin Millar - | Equipment |
| Head Coach/Asst. Head Coach - | Technical Coaching Advice and Support |
| Julie Walker - | Club and Academy Registration Enquiries |
| John Ruddick - | Scouting Policies and Process |
| Eric Keller - | Referee No Shows |

If you are unsure of who to contact, please contact your Age Group Coordinator (AGC). Most questions or concerns can be addressed by AGCs. If they cannot provide you with an answer they will forward any questions or concerns to the appropriate Club official.

Please DO NOT go directly to our Technical Department for concerns regarding your team. Our Head Coach and Assistant Head coach are available to provide you with technical advice and support only. Although our staff coaches might have a sympathetic ear for your situation, ultimately they are not the people who will assist you in most cases. We do not want to discourage open relationships amongst our Club members and officials, but in order for us to work as efficiently as possible we need everyone to adhere to these guidelines.

All Club officials, including AGCs, are listed on the WVSC web site Click here for all current WVSC contact information.

Thank you in advance for your cooperation and support.

Regards,

Bill Sparling
President
West Vancouver Soccer Club



▲Top
West Vancouver Soccer Club Privacy Policy
Respecting the privacy and security of players' personal information is important to us. Please read this Privacy Policy carefully. It is designed to inform you of the types of information we collect and how we use that information.

Information We Collect

As one of our players, we collect non-public personal information about you to allow your registration for various soccer activities. Examples of this type of information include your name, address, telephone number, birth date; B.C. Soccer Association registration number and other personal information. In some cases, we may also receive information about you from others (for example, in relation to disciplinary matters or other matters referred to our Board).

How We Protect Your Information

We only grant access to non-public personal information about you to employees and service providers so that they can administer our soccer related activities. We require that your information remain confidential. In addition, we maintain physical, electronic and procedural safeguards to guard your personal information. We will not disclose any non-public information about you except as required by law, as described in this Privacy Policy or as otherwise communicated to you.

Information Sharing With Non-Affiliated Third Parties

We share certain of the information we collect, as described above, with non-affiliated third parties such as British Columbia Soccer Association and its officials to allow you to participate in activities under their auspices and local governmental authorities to enable us to obtain access to recreational facilities for the purposes of soccer activities. Except for such purposes and as required to allow you to participate in soccer activities we will not share the information with non-affiliated third parties without prior notice to you.





▲Top
From West Vancouver to the Big Leagues—Mark Watson's Soccer Journey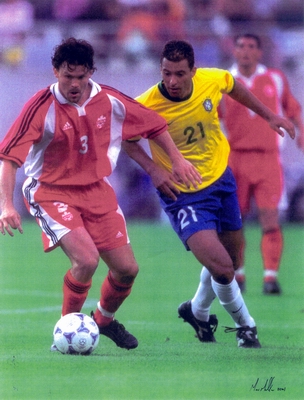 Mark Watson is an iconic figure in Canadian soccer. A former captain of Canada's National Team, Mark made 77 appearances in international matches between 1991 and 2004. These matches included a wide range of important games, from World Cup qualifiers to key regional tournaments, such as the CONCACAF Gold Cup. One of the notable highlights of Mark's international career was his participation on the Canadian team that won the CONCACAF Gold Cup in 2000. In that series Mark scored a key goal in the semi-final against Trinidad and Tobago that Canada into the Gold medal game. He is currently Canada's 2nd most "capped" national team player.

Mark also had a distinguished professional career. He played in Europe over 7 seasons, including two season with Watford in England's first division, two seasons with Oxford United in England's second division, 2 seasons with Osters of the Swedish First Division, and a Stint with 2nd Division Oldham. In addition, Mark played professionally in Canada, beginning with the Hamilton Steelers of the CSL, before moving on to strong USL A league teams, the Vancouver 86ers, Seattle Sounders, and Charleston Battery. During his professional career in North America Mark has been named a first or second team all-star on 5 different occasions. Mark is currently an assistant coach with Charleston, the first stop on what is sure to be a distinguished coaching career.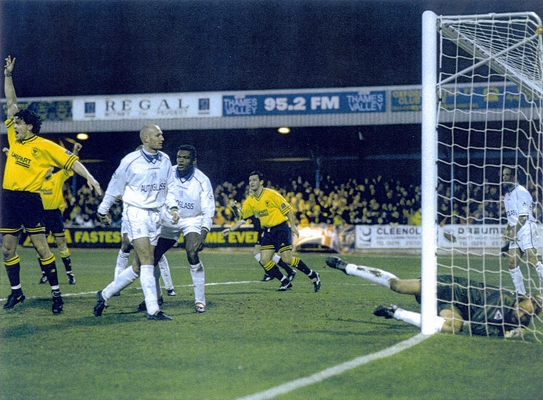 The West Van Soccer Club is proud of the role our club has played in Mark's soccer journey. Like many thousands of other players in the history of our club, Mark started as a West Van pee wee player, on a team coached by his dad, Keith. That team, the U7 "Glenmore Gunners" became the core of a team that Mark played with until U14, when he began to play for the North Shore Metros. In his final year of high school, Mark got recruited to play in the Vancouver Metro men's league, with the West Van Trollers.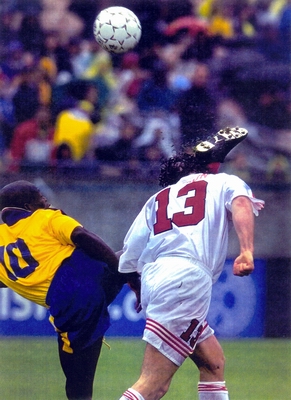 Interestingly, Mark didn't set out with a clear intention to become a professional soccer player and coach. He was a top basketball player on the North Shore and he played both basketball and soccer though high school. He went to Cap College and was playing basketball on the Cap College team, when he was recruited to play for the BC Soccer Summer games team tour of China. Mark's play impressed everyone so much that he was later selected for Canada's U23 National team, and by the time Mark left Cap College to go to UBC soccer had become his number one sport.

Canadian soccer has been all the better as a result of that decision. Our club congratulates Mark on his accomplishments and we are anxiously waiting for the day when he's back here, coaching a pee wee team of his own!

WVSC would like to thank Rick Gruneau for writing the article.





▲Top
Once a Spuraway, Always a Spuraway!




Click here for a great story, the achievements and the accomplishments of Mark Watson!